867 total views
Join us at The Summit! Kicking off in Atlanta, GA on May 31, 2018, hear directly from industry professionals and blockchain experts about new transformative technologies, and explore the amazing potential and challenges that impact blockchain transformation strategy.
Why does The Summit matter?
Our conversation is critical to solving healthcare's biggest challenge – data management.

The healthcare industry is drowning in data—clinical trials, patient medical records, complex billing, medical research and more. Although adoption and implementation of blockchains will be an evolution over time, organizations have already begun to vet and adopt blockchain systems. The vision for blockchain to disrupt healthcare in the future would be to solve many issues that plague the industry today.
"..blockchain technology has the potential to transform healthcare, placing the patient at the center of the healthcare ecosystem and increasing the security, privacy, and interoperability of health data." Deloitte, 2017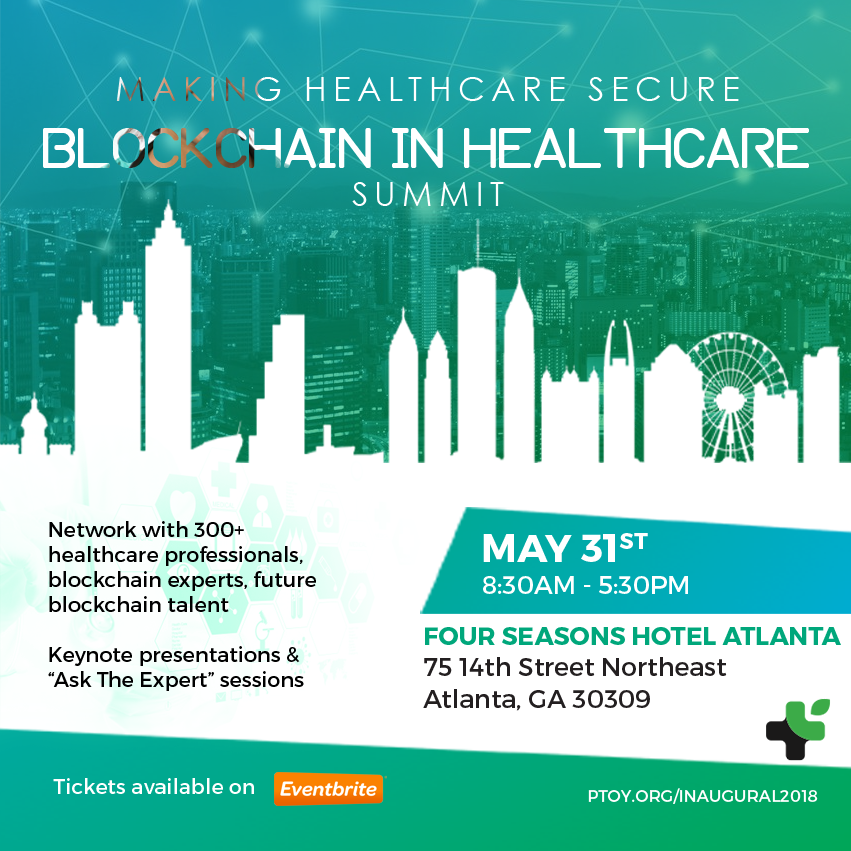 ---
Who Should Attend
Learn, share and network! The #PTOYSummit18 is the premier event for anyone working in the following industries or professions:
Healthcare Providers and Professionals
Pharmaceutical Manufacturing and Distribution
Medical Devices
Health Technology Software, including Providers and Partners
Payor, Providers and Patient Representatives
Rising Talents and Blockchain Influencers
Digital Health TransformationOr.. Anyone thrilled and interested in the intersection of healthcare and blockchain!
Sponsorship
Sponsorship is a great way to brand your organization as thought leaders of blockchain healthcare transformation. Learn more about custom packages that fit your marketing goals on our website: http://www.ptoy.org/inaugural2018
Hotels
Stay and SAVE with us! Traveling from around the region, or country? No problem! We have reserved luxurious accomodations for our Summit guests at the Four Seasons Atlanta. To reserve, please call (404) 253-3853 and mention the Patientory Summit, along with the block code: 180530PAT, to make your reservation by May 18th for the special room rate!

Speakers + Agenda
We are proud to host a dynamic and energetic group of experts with proven expertise in blockchain and healthcare. View our full agenda at ptoy.org/inaugural2018. A few sample list is below:
Jim St. Clair
CTO | HealthFinTech | Blockchain | Cyber Risk and Security
Institute for Healthcare Financial Technology University of Mississippi
Jason Goldwater
Senior Director at CedarBridge Group, LLC
Emerson College
David Koepsell
CEO & Founder of EncrypGen
Blockchain genomics via the Gene-Chain University at Buffalo
Quinetha Frasier, MBA
Tech Evangelist in Philanthropy
MyPledger Tuskegee University
Chrissa McFarlane
CEO & Founder at Patientory
Wake Forest University School of Business
Ron Ribitzky, MD
Physician Executive Healthcare IT – Life Sciences Informatics Precision Medicine Global Innovation Experience
R&D Ribitzky, Stanford University Graduate School of Business
Alonzo Sexton, MD
Orthopedic Surgeon
Orthopedic Sports Medicine Center of Atlanta
Bryant Joseph Gilot, MD CM DPhil MSc
Chief Medical Officer at Blockchain Health Co./ Lead at Center for Personalized Medicine
University of Tübingen, University of Oxford
Thomas Goslee
Global Business Development Director, Patientory Stiftung
Rika Sukenik
Tax Technology and Blockchain at Deloitte
Georgia Institute of Technology – Scheller College of Business
Register today!
Get tickets for this event on: EventBrite.
Disclaimer:
Blockcast.cc does not endorse any content or product on this page. While we aim at providing you all important information that we could obtain, readers should do their own research before taking any actions related to the company and carry full responsibility for their decisions, nor can this article be considered as investment advice or recommendations. Every investment and trading move involves risk, you should conduct your own research when making a decision.