575 total views, 1 views today
The popularity of crypto is on the rise as the topic appears in more mainstream media channels, is being discussed by government leaders, and global companies have announced plans to adopt it in the near future. Businesses and individuals are slowly realizing the potential of cryptocurrencies, however, one of the most frequently asked questions is "how do I get started?"
Join us as we cover the fundamentals and guide you through cryptocurrencies, exchanges and give you the 101 on how to enter into the crypto world.
Leading us through this workshop will be Meyade Curfs, founder of Meyade.nl, a platform which educates people on Bitcoin, crypto and trading.
Upon discovering Bitcoin and becoming involved in the world of cryptocurrencies, Meyade quit his day job to start trading full time at the age of 21. He had the knowledge and mindset to make it a success and wanted to share this with his peers, creating coaching sessions for the Dutch community. How can they ensure that they would have the right mindset to make their business a success and what can they learn from Meyade's story? How can they create an income stream out of trading cryptocurrencies? Through this idea of coaching and teaching workshops, Meyade the company was born, its ultimate goal to build a legacy through others.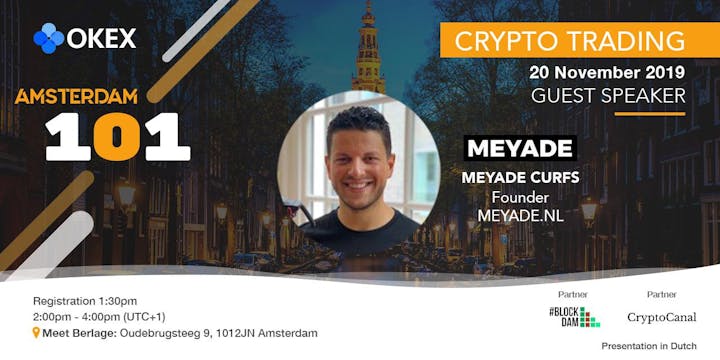 To confirm your seat for this event, join our Dutch Telegram group and message our Community Managers (@blockblanc & @Luukweber). Spaces are extremely limited so be sure to register early!
Please note:
All attendees must sign up for an OKEx account prior to joining the event.
Bring your laptop to follow along with the workshop.
Presentation will be in Dutch.
Follow our Dutch Telegram Group to stay up to date on future events and news! https://t.me/okexofficial_nl

Disclaimer:
Pictures and videos will be taken during this event and this may be used in the future in OKEx's promotional materials. By registering and attending this event, you grant OKEx full rights to use the images resulting from the photography/video filming, and any reproductions or adaptations of the images for promotional purposes.
If you do not wish to be photographed, please inform an event organizer.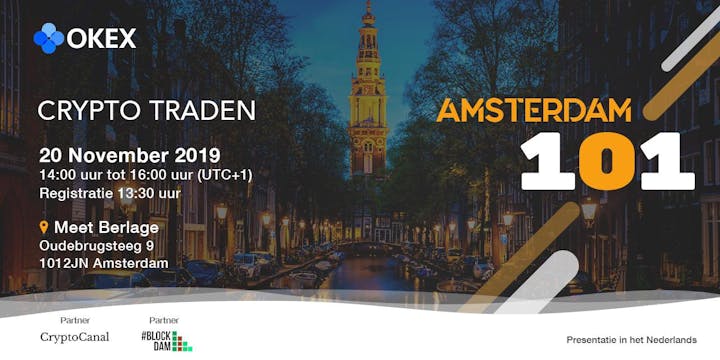 De populariteit van cryptocurrencies lijkt weer toe te nemen nu dat grote mediakanalen, internationale bedrijven (zoals Facebook), regeringsleiders en zelfs centrale banken berichten over de meerwaarde van cryptocurrencies. Ook particulieren realiseren zich langzaam de potentie van cryptocurrencies en vragen zich vaak af: "hoe begin ik eraan?"
In deze gratis workshop zal een ervaren crypto-ondernemer jou al de basis principes van cryptocurrencies, beurzen, traden en investeren uitleggen.
Meyade Curfs, oprichter van Meyade.nl, een platform dat mensen voorlicht over Bitcoin, crypto en handel zal de workshop faciliteren.
Toen hij Bitcoin ontdekte en betrokken raakte in de wereld van cryptocurrencies, stopte Meyade met zijn baan en studie om op 21-jarige leeftijd full-time te gaan handelen. Door deze gewaagde stap heeft hij een hoop kennis opgedaan en een winnaars mindset gecreërd. Deze ervaringen en skills wilde hij graag delen en zo is Meyade begonnen met het geven van coaching sessies. Hieruit is het bedrijf Meyade geboren, met het uiteindelijke doel om zo veel mogelijk mensen te helpen vrijheid te helpen bereiken.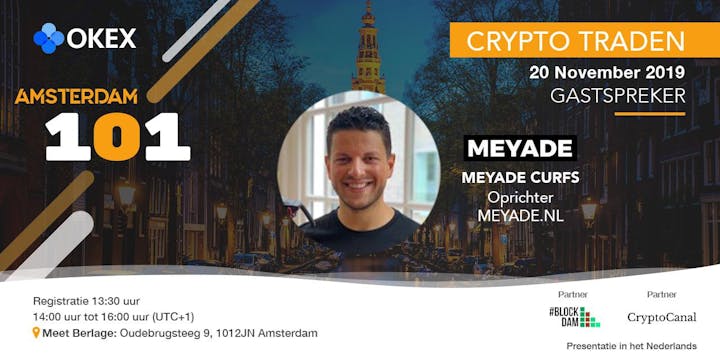 Word lid van onze Nederlandse Telegram-groep en stuur een bericht naar onze Community Managers (@blockblanc & @Luuk_OKEx) om uw plaats voor dit evenement te bevestigen. Er zijn maar een gelimiteerd aantal plaatsen, dus meld je vroeg aan!
Houd er rekening mee dat:
Alle deelnemers zich aanmoeten melden voor een OKEx-account voordat ze kunnen deelnemen aan het evenement.
Het aangeraden is om een laptop mee te nemen naar de workshop.
Presentatie in het Nederlands zijn.
Volg onze Nederlandse Telegram Group om op de hoogte te blijven van het laatste nieuws en evenementen! https://t.me/okexofficial_nl

Find out more at this link