190 total views, 1 views today
Event Details

The organisers of London Fintech Week bring you a new conference tailored especially for Fintech developers. Fintech developers are changing the face of the financial services industry. From enterprise to start-up and everything in between. Join us for London's first Fintech Developer Conference. For the latest details visit www.fincoder.co.uk
SPACE IS LIMITED SO BOOK EARLY. EARLY BIRD TICKET AVAILABLE UNTIL APRIL 1st 2015
09:30 AM – Registration, Breakfast & Networking
Arrive early for a selection of breakfast nibbles, juices and warm drinks. Once you're checked-in you'll have time to meet other delegates and speakers. We'll start promptly at 10:30am. 
Morning Session
10:30am – Introduction
A short welcome from the founders of Ficoder.
10:40am – State of the Industry
Experts weigh in the current state of the Fintech industry and it's trajectory for the near future.
11:00am – Fintech Developer Challenges
An industry panel of experts from start-ups to enterprise discuss some of the unique challenges that face technical experts in the evolving world of financial services.
11:25am – Fintech CTO Utopia
What would the perfect scenario look like for a technical head at a large enterprise vs. a growing start-up? Hear directly from the source in an eye opening segment.
11:55am – Meet the Start-ups: Fintech Intros from the Tech Team
4 Fintech start-ups demos/intros from the point of view of the technical co-founders12:30 PM – 1:45 PM: Lunch Break & Networking SessionEnjoy a nice lunch while getting to know other attendees.
Afternoon Session
1:45pm – Agile, Myths & Methodologies
A quick overview of methodologies and tools for more productive teams
2:00pm – UX, Good, Bad & Ugly
The importance of getting your user experiences right, the first, second or third time
2:15pm – Data Driven Financial Services
Turning your mountain of data into insights more often
2:30pm – Data Visualisation of interconnected financial systems
A visual look a data visualisation
2:45pm – Hacking the Block – Blockchain Technology for Enterprise
How blockchain technology can revolutionise everything
3:00pm – Panel: How not to sell to banks
A look a common mistakes made when start-ups enter the enterprise environment
3:20pm – Investors Message to Start-up CTO's
What investors want from you and what they want you to know
3:40pm – Final Remarks
03:45 PM – 5:15 PM: Networking & Refreshments
A final chance to network and meet the day's speaker and attendees.
SPONSORED & SUPPORTED BY: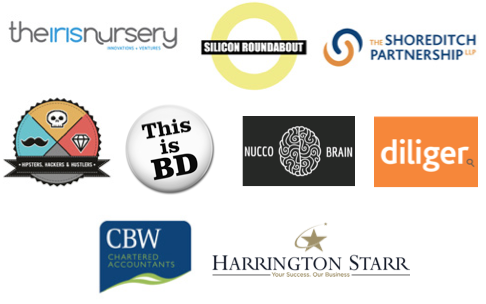 Do you have questions about Fincoder London – Fintech Developer Conference?

Contact Fintech Worldwide

When & Where


iris Nursery

185 Park St

SE1 9DY London

United Kingdom
Monday, 20 April 2015 from 09:30 to 17:30 (BST)






Get tickets for this event on: EventBrite.