36 total views, 1 views today
OKEx C2C Launch Event – TURKEY
Meet us in Istanbul on 26 March 2019 and enjoy a night of conversations, giveaways, drinks, and nibbles. In views of the fast-growing digital asset community in Turkey, OKEx is going to launch the C2C (customer-to-customer) fiat-to-token trading service for Turkish Lira (TRY) on its platform, filling the high demand in the global markets, and at the same time, fulfilling our role of a trailblazer in driving blockchain adoption globally.
Get 25 USDT on Your First Deposit at The Event!
1. RSVP & Attend our Meetup
2. Sign up an OKEx account via this link and make your first deposit
3. Get your bonus (to be distributed by Apr 9)
Terms & Conditions
Promotion Period: 12:00 March 26 to 12:00 April 2, 2019 (HKT)
Valid for new users only (must register via the link: https://www.okex.com/account/register?channelId=45214)
Not valid for users reside in China
Limit 1 entry per user
The participant must register a new account via the provided link to get 5 USDT and make a minimum of 5 USDT equivalent deposit to get an extra 20 USDT.
Limited to the first 1,000 users only
Each winner can get 25 Tether (USDT)
Prizes will be credited to the winners' OKEx accounts by April 9, 2019
In case of any dispute, OKEx reserves the right of final decision
Presentation in Turkish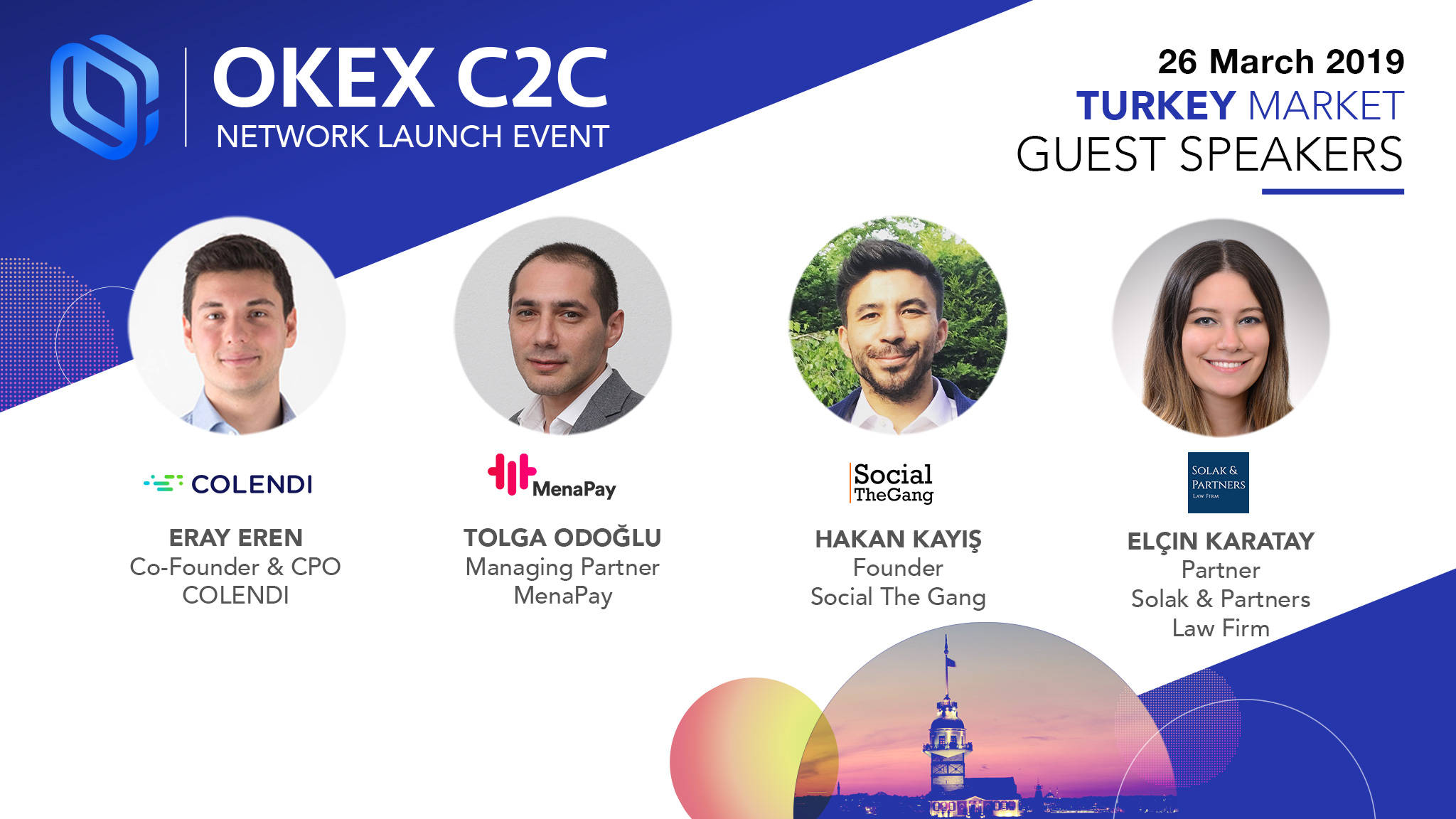 ---
OKEx C2C Açılış Etkinliği – Türkiye
26 Mart 2019'da İstanbul'da buluşalım. Sohbetler, hediyeler ve ikramlar eşliğinde etkinliğin tadını çıkaralım.
OKEx, Türkiye'de hızla büyüyen dijital varlık topluluğunun isteklerini önemsiyor ve bu bağlamda OKEx platformunda C2C (müşteriden-müşteriye) fiat-to-token ticaret işlem hizmetini Türk Lirası (TL) ile sunmayı başlatıyor. OKEx, global pazarlardaki yüksek talebi karşılamak ve aynı zamanda lokal olarak blockchainin benimsenmesini sağlama konusundaki öncü rolüne C2C işlem hizmetini Türk Lirası (TL) için platformunda başlatarak devam ediyor.
Etkinlikte İlk Para Yatırmanıza 25 USDT Kazanma Fırsatı!
1.Etkinliğimize kayıt olun ve buluşmamıza katılın.
2. Bu bağlantı ile bir OKEx hesabı açın ve ilk para yatırma işleminizi gerçekleştirin.
3. Bonusunuzu kazanın (9 Nisanda dağıtılacaktır)
Çekiliş Koşulları
Promosyon Süresi: 12:00/26 Mart – 12:00/2 Nisan 2019 (HKT)
Sadece yeni kullanıcılar için geçerlidir. (Link bağlantısı yoluyla kaydolmanız gerekmektedir: https://www.okex.com/account/register?channelId=45214)
Çin'de bulunan kullanıcılar için geçerli değildir.
Kullanıcı başına 1 giriş ile sınırlıdır.
Katılımcıların, 5 USDT alabilmek için verilen link bağlantısıyla yeni bir hesap açması ve 20 USDT'ye ek olarak en az 5 USDT eşdeğerinde tutar yatırmaları gerekmektedir.
Sadece ilk 1.000 kullanıcıyla sınırlıdır.
Her kazanan 25 Tether alabilir. (USDT)
Ödüller, 9 Nisan 2019 tarihine kadar kazananların OKEx hesaplarına yatırılacaktır.
Herhangi bir anlaşmazlık durumunda OKEx nihai karar hakkını saklı tutar.
Get tickets for this event on: EventBrite.