437 total views, 1 views today
OKEx Talks – Bursa: Crypto Education in Turkey
Join us for OKEx's meetup on Saturday 28 December for our first ever Talks in Bursa, Turkey. Come along to meet and network with fellow blockchain and crypto enthusiasts, and enjoy some drinks, snacks and giveaways.
Get 15 USDT on Your First Trade of minimum 100USDT
RSVP & Attend our Talk
For new users please sign up an OKEx account via this link
Get your bonus (to be distributed by 18 Jan)
Terms & Conditions
Promotion Period: 08:00 Dec 28 to 08:00 Jan 4, 2020 (HKT)
Valid for OKEx users only from Turkey
Each winner can get a maximum of 15 USDT
The participant must register a new account via the provided link; make a minimum of 100 USDT equivalent trade to get an extra 15 USDT.
The first 100 new users who made their first trade will be prized
Limit of 1 entry per user
Valid for new users only (must register via the link: https://www.okex.com/account/register?channelId=45210)
Prizes will be credited to the winners' OKEx accounts by 18 Jan)
Not valid for users residing in China
In case of any dispute, OKEx reserves the right of final decision
Follow our Turkish Telegram Group to stay up to date on future events and news!
Disclaimer:
Pictures and videos will be taken during this event and this may be used in the future in OKEx's promotional materials. By registering and attending this event, you grant OKEx full rights to use the images resulting from the photography/video filming, and any reproductions or adaptations of the images for promotional purposes.
If you do not wish to be photographed, please inform an event organizer.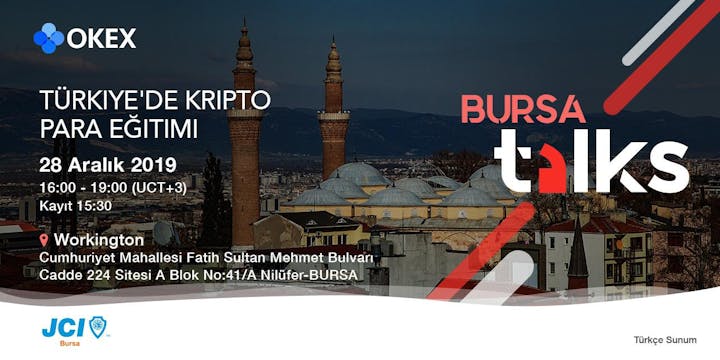 28 Aralık cumartesi günü Bursa'da ilk defa gerçekleştirilecek olan OKEx buluşmasına siz de davetlisiniz. Blockchain ve kripto paralarla ilgili konuşacağız. Bu konulara ilgi duyan insanlarla tanışmak için harika bir fırsat. Ayrıca birbirinden güzel hediyelerimiz ve ikramlarımız da olacak.
100 USDT hacmindeki ilk işleminizde 15 USDT kazanın
RSVP & Konuşmamıza katılın
Bu bağlantıyla OKEx hesabı açıp ilk işleminizi yapın
Bonusunuzu alın (18 Ocakta dağıtılacak)
Şartlar & Koşullar
Şartlar & Koşullar
Promosyon Süresi: 28 Aralık 03:00-4 Ocak 03:00
Sadece Türkiye'deki OKEx Kullanıcıları için geçerlidir
Her kazanan 15 USDT alacak
15 USDT değerindeki ödül için katılımcılar bu bağlantı ile yeni bir hesap açmalı ve bu hesapla minimum 100 USDT değerinde işlem yapmalı.
İlk işlemini yapan ilk 100 yeni kullanıcı ödüllendirilecek.
Her kullanıcı sadece 1 kere bu ödülü kazanabilir.
Bu etkinlik sadece yeni kullanıcılara özel (bu bağlantıdan kayıt yaptırmalısınız: https://www.okex.com/account/register?channelId=45210)
Kazananların ödülleri 18 Ocakta dağıtılacak.
Çin'de yaşayan kullanıcılar bu yarışmaya katılamaz.
Herhangi bir anlaşmazlık durumunda, OKEx son kararı verme hakkını saklı tutar
Find out more at this link