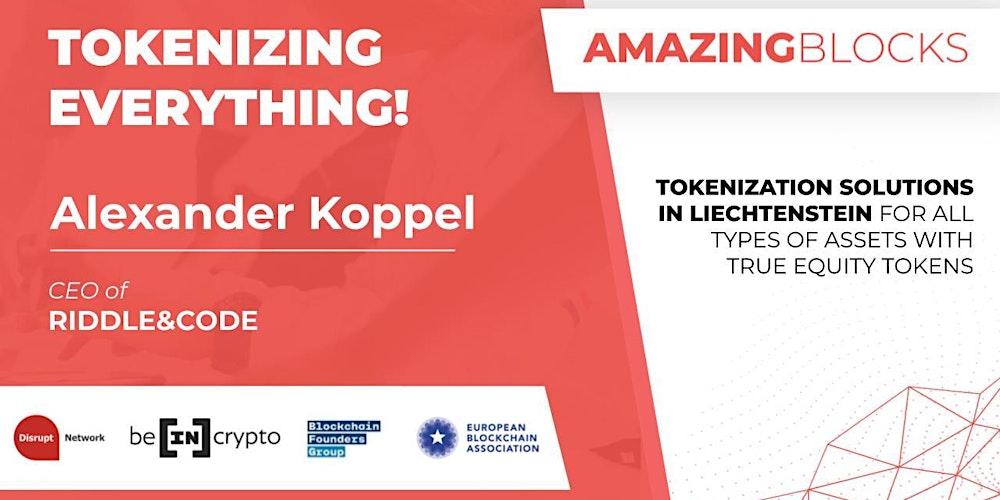 TOPIC
Tokenization Solutions in Liechtenstein for all types of assets with true equity tokens
SPEAKERS
Moderator: Nicolas Weber, Business Development, Amazing Blocks
Alexander Koppel, CEO of RIDDLE&CODE
DATE & TIME
Date: Friday, June 25, 2021
Time: 16h30-17h00 (CET)
Mode: online talk via Zoom; Zoom dial-in URL will be sent previous to the online talk
LANGUAGE
This talk will be held in English.
CONTACT
Mail: team@disrupt-network.io
LinkedIn: https://www.linkedin.com/company/disrupt-network/
DATA PROTECTION
Through participating in this meetup (that is, through ordering a free ticket with Eventbrite), the participant gives his consent that Disrupt Network UG (1) saves his name and contact data (i.e. email), (2) is later on allowed to send emails to the participant, and (3) is allowed to take photos and videos during the meetup that might be published online and that might include the participant. If the participant does not agree to points (1), (2) and (3), he or she should not order a ticket for the meetup.