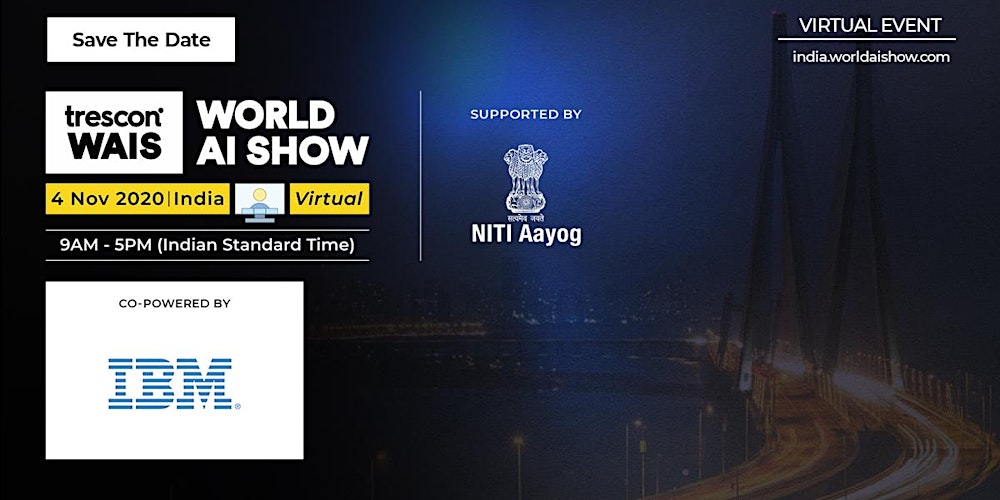 93 total views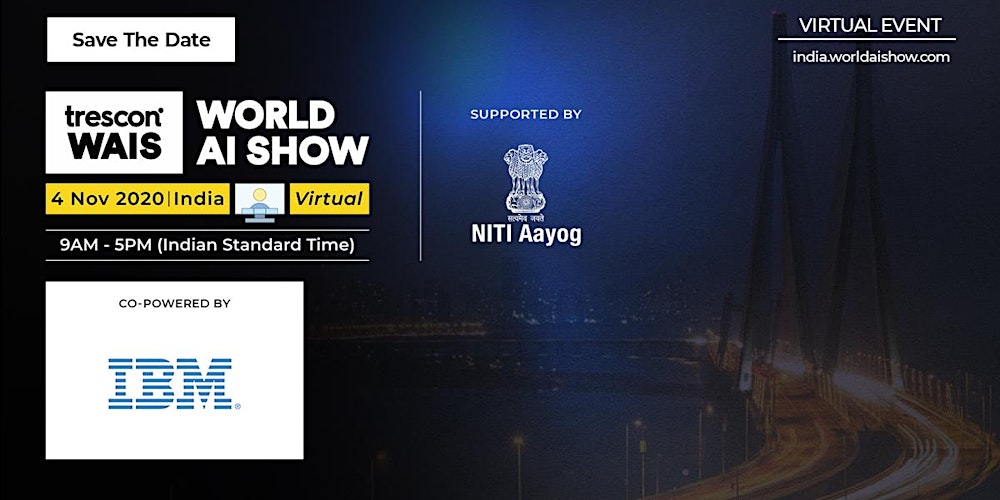 A virtual convening of some of the smartest minds from the AI landscape to discuss the applications of AI and its scope in the future of the Indian Economy.
World AI Show – India is supported by NITI Aayog and is Co-Powerd by IBM.
What is World AI Show?
World AI Show is a thought-leadership-driven, business-focused, global series of events that takes place in strategic locations across the world.
As part of the world tour, this Indian edition is virtually gathering pre-qualified CIOs, CEOs, CTOs, Heads of AI, Chief Digital Officers, Heads of Innovation, International AI & ML experts and global AI innovators – all under one roof.
Witness powerful keynotes, workshops, use-case presentations, product exhibitions, panel discussions and tech talks – that will help you identify the latest AI trends and find solutions to your business challenges.
Insightful Sessions :
Hear from global AI experts on the best practices to achieve optimum results in a fast-moving digital world! It is an opportunity to hear from the world's leading solution providers about innovative ways to achieve favorable business results.
Technology Use-cases :
Emerging technologies, when used together have the potential to revolutionize industries. Explore the possibilities of transformational technology use-cases presented by successful early adopters and pioneers within the fields of AI.
Product Showcase :
The show features presentations, use-case-studies and educational sessions by global technology providers who are virtually showcasing their latest innovations designed with the primary focus on enabling businesses and organizations to adopt robust AI solutions.
Panel Discussions :
Be part of panel discussions and exchange ideas with some of the greatest minds in the space of AI. Our virtual panel includes the likes of seasoned, experienced and accomplished veterans from the AI sector looking to find the very best solutions that will bridge business functions together.
Private Consultation Rooms :
Indulge in detailed discussions with technology providers of your choice through private and secure online chats where you have the opportunity to highlight your specific needs and challenges directly with the expert advisors and consultants.
Private Networking Rooms :
Network and share ideas virtually with CIOs and Heads of AI from across industry sectors or from your own sector in private online chat rooms. Understand the latest trends and challenges faced during the current global situation and how to prepare for renewed challenges in a post-COVID19 world.