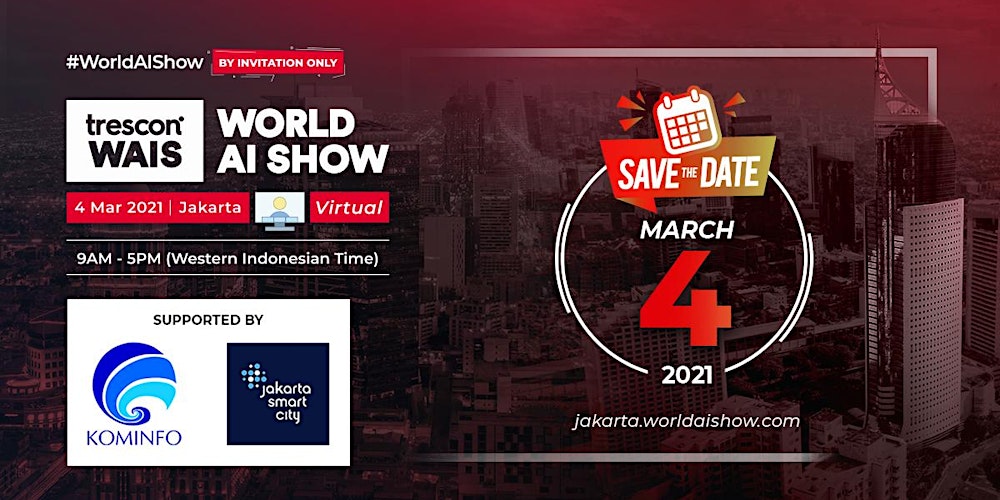 What is World AI Show?
World AI Show is a thought-leadership-driven, business focused, global series of events that takes place in strategic locations across the world.
The show is a one-of-a-kind virtual gathering of pre- qualified CIOs, CEO's, CTO's, Heads of AI, Chief Digital Officers, Heads of Innovation and International AI experts.
Witness powerful keynotes, workshops, use-case presentations, product exhibitions, panel discussions and tech talks to find solutions for issues and trends within the AI space.
Discussions Topics
The future of digital government: If remote working is the 'new-normal', what does it mean for governments?
How AI, Data Analytics will fundamentally transform the BFSI industry?
Enabling CX Automation with AI and state of art technologies
Future of technology in healthcare
Exploring the vibrant startup technology of Indonesia
Implementation of AI for business growth for telecommunication and CSPs
Applied AI for reinvention in disruptive times
For more details, please visit: jakarta.worldaishow
NOTE: Participation at this event is subject to pre-qualification. Please register for your free pass by visiting the event website: Free Delegate Pass
For Sponsorship opportunities, please submit the inquiry form by visiting the page: Sponsor Enquiry