468 total views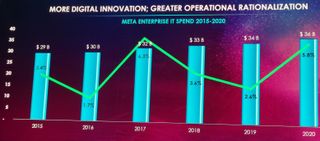 (Image credit: Future)

Enterprise IT spending in the Middle East, Turkey and Africa (Meta) is expected to grow by 5.8% in 2020 to reach $36b, powered by third-platform technologies and innovation accelerators while traditional IT spending slows.
Jyoti Lalchandani, vice-president and regional managing director for research firm International Data Corporation (IDC), said that enterprise IT is changing dramatically with digital IT taking the lead.
He said the key drivers of enterprise IT spend are innovation accelerators such as cognitive systems, robotics, 3D printing, next-generation security, internet of things, AR and VR and third platform pillars such as cloud, mobile, big data and analytics, and social business.
"The innovation accelerators will grow at an annual growth rate of 19.1% between 2019-2023 period while the third platform, including mobile, will grow at an annual growth rate of 4.2% between 2019 and 2023 and 16.5% by excluding mobile," he said.
Meredith Whalen, Chief Research Officer at IDC, said that the new digital agenda for CEOs is to focus on new customers, new capabilities, new critical infrastructure and new industry ecosystem.
"CEOs are looking at building a closer relationship with its customers and create more personalised products and experiences and building trust with customers as well," she said.
Moreover, she said that organisations need to build new capabilities around an intelligent organisation, software capabilities to deliver innovation and dynamic work models.
Creating a better-personalised experience
"The digital economy is at a critical tipping point. In just a few years, nearly half of all GDP worldwide will come from products and services offered by digitally transformed organisations," Whalen said.
In order to thrive, she said that organisations must define their new role in this digital economy and proactively address new customer requirements around personalisation and trust.
"They must also develop new capabilities around digital innovation, work, and intelligence, and build a digital IT infrastructure that supports resilient operations and pervasive experiences," she said.
According to IDC, 40% of the data collected from the customer journey will be to create a better product and better-personalised experience for the customers by 2023.
By 2025, over two-thirds of the G2000 will be high-performance, large scale producers of software-based digital innovation while 80% of the code used by enterprise developers will be from third-party marketplaces, code repositories and platforms, and 60% of the G2000 enterprises will have created their own software ecosystem.
According to a recent survey conducted by the research firm in the region, 54% are currently engaged in digital transformation in the medium- and large-sized enterprises, 27% are about to start digital transformation this year, 15% are not currently engaged but planning in the next two years and 4% has no plans in the near future.
Moreover, he said that digital transformation is important to millennials and Generation Z as they contribute 79% of the total population.
"They [millennials and Generation Z) are important as they want to be connected and wants to access rather than possess, sees differentiation between physical and digital, wants one brand and one experience. The impact it has on the business model is changing very dramatically," he said.
Digital transformation impacting the enterprise IT dynamics in the region are finance, government, communications, manufacturing, resource industries and construction, retail and wholesale, professional and personal services, utilities, healthcare and transportation.
By 2024, Lalchandani said that over 30% of all regional IT spending will be directly for digital transformation and innovation, up from 18% in 2018, growing at an annual growth rate of 18% as compared to 1.5% for the rest of IT.
He said that the government sector is also spending a lot on digital transformation and it is expected to cross $8b in 2021, registering an annual growth rate of 5.7% during 2019-2023 period.
The key growth areas are smart services (customer journeys, digital identities, consolidation of services), integration and automation (operational rationalisation – blockchain and AI, centralising processes across entities) and public safety (expanded surveillance, intelligent command centres, automated police stations, emergency response, AI, IoT and analytics).
In the manufacturing space, the spending, with a focus on building future factories, is expected to cross $4b in 2020 (23% of total digital transformation spend).
In the telecommunications space, transformation is expected at three levels – business transformation (digital brands, digital ICT services, digital channels, and data monetisation), customer experience transformation (customer analytics, omnichannel enhancement, consolidation of internal applications) and network transformation (5G rollout, SD-WAN, NFV, AI, etc.).
Telecom IT spending, which is expected to grow at an annual growth rate of 5.9% during the 2019-2023 period, is expected to cross $5b by 2022.
In the cloud space, Lalchandani said that public cloud spending is set to grow threefold by 2023 to $5.5b, due to investments by hyper-scale cloud providers.
"20% of organisations adopted a cloud-first policy. Cloud IaaS share to grow from 15% to 30% by 2023 while spending growth in PaaS and SaaS to grow by 40%. By 2024, 40% of cloud deployments will move from the core to edge computing," he said.
Overall investments in AI, Lalchandani said is going to grow more than double by 2023 to more than $600m.
However, he said that every country in the region is driven by different themes.
In the UAE and Saudi Arabia, he said that it is driven by national strategy and vision while in South Africa, it is driven by startups and by private sectors in Turkey.
According to Lalchandani, security spending, which is on top of CIO's agenda, is expected to cross $3.6b in 2023, driven by the need to manage digital trust in the digital transformation age.
Wilson Xavier, research director for telecom and IT services at IDC, said that the top five priority areas of security investment to build digital trust are network security (54%), cybersecurity (42%), endpoint security and detection (34%), security vulnerability management (34%) and regulator/ compliance solutions (32%).
"Enterprise security spending is expected to reach $2.7b. Out of this, South Africa will contribute 26%, UAE by 19%, Saudi Arabia by 15% and Turkey by 9%," he said.
In the UAE, he said that security spending is about 8.8% of total IT spending, in Turkey by 6.8% and 5.9% in Saudi Arabia.
Disclaimer:
Blockcast.cc does not endorse any content or product on this page. While we aim at providing you all important information that we could obtain, readers should do their own research before taking any actions related to the company and carry full responsibility for their decisions, nor can this article be considered as investment advice or recommendations. Every investment and trading move involves risk, you should conduct your own research when making a decision.