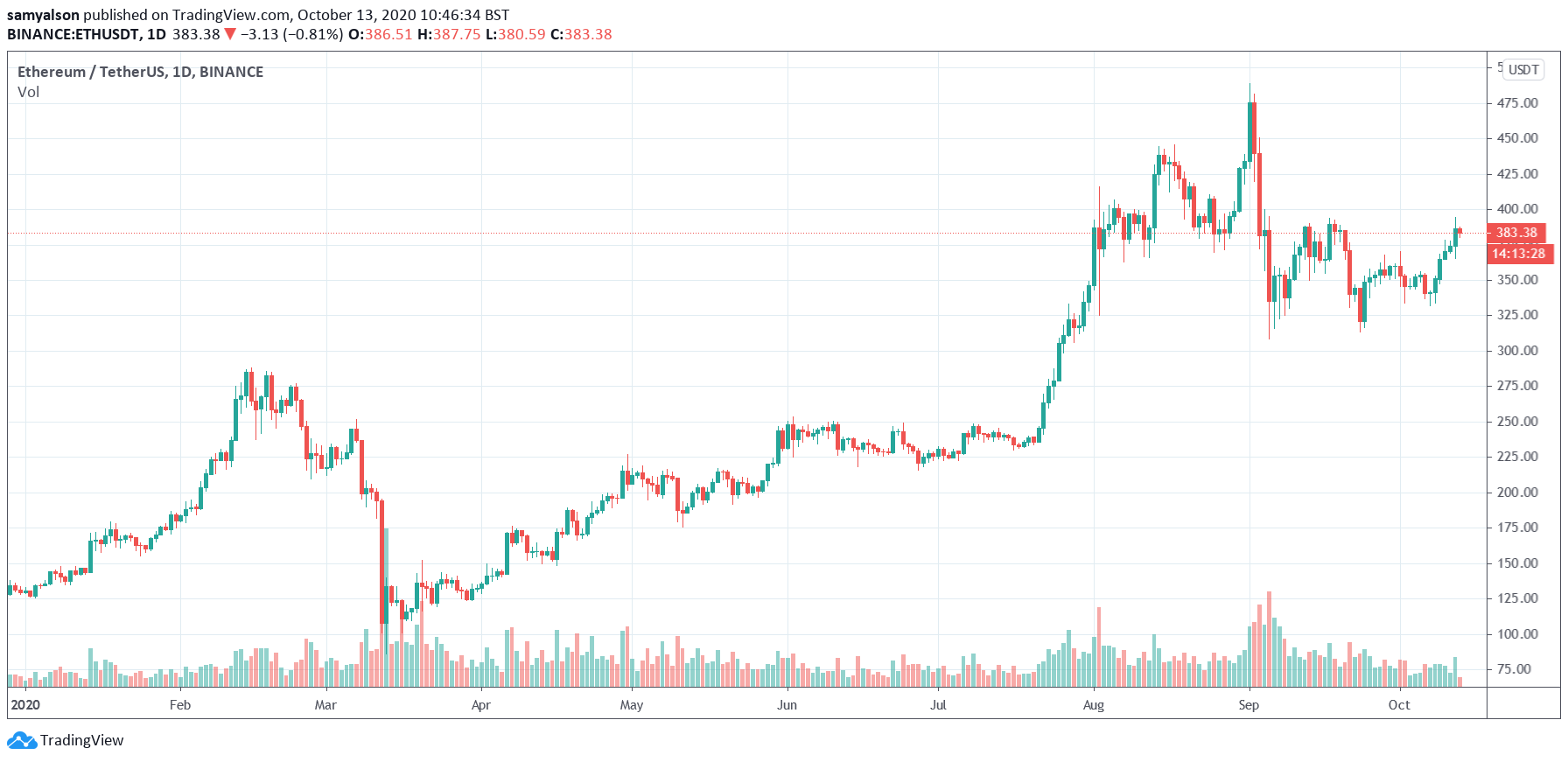 339 total views
Following the Spadina testnet failure at the end of September, the Ethereum 2.0 Phase 0 rollout looked in serious jeopardy.
Billed as a dress rehearsal for ETH 2.0 genesis, core developer Danny Ryan reported several issues with the Spadina run. The most pressing problem was the long wait times for transactions to become irreversible.
Ryan attributed many of the issues to the low participation rates, which is expected in an uncentivized testnet. He also brought up the poor client distribution, which saw the majority of participants opt for using the Prysm client.
Today we launched, Spadina, a dress rehearsal for eth2 genesis.

Although the eth2 clients have generally become quite robust, the long wait for finality today highlighted issues closer to the edge of the stack — cli options, testnet config, bootnodes, genesis calculation bugs

— dannyryan (@dannyryan) September 29, 2020
In response, Ryan announced another dress rehearsal testnet, named Zinken, to reassess the situation.
The ultimate aim of dress rehearsal testnets is to ensure a perfect run before the mainnet launch. This includes client teams having a clean release process, and validators successfully connecting to the network to produce blocks.
Yesterday, core developer Afri Schoedon tweeted that Zinken had finalized without a glitch.
zinken testnet finalized on epoch 2 👌 pic.twitter.com/jsmxgRQZKC

— Afri Schoedon (@q9fmz) October 12, 2020
As such, despite a number of false starts and let downs, Ethereum 2.0 Phase 0 appears on track for rollout at the end of the year.
Schoedon confirmed this by saying "There will be a new toy for Christmas."
Prylabs Launches First Client Web Interface for Ethereum 2.0 Staking
To add to the developments, the Co-founder of Prylabs, Raul Jordan also announced the first ETH 2.0 client web interface.
0/ As of Prysm release alpha.29, we have finally completed our first version of our ETH2 client web interface! The community has been asking for this since we started work on eth2 and we have now delivered @prylabs https://t.co/oDRGCAOET9 #Ethereum pic.twitter.com/kTxPxSjh0a

— Raul Jordan (@raulitojordan) October 12, 2020
It comprises of a graphical user interface for clients to manage their staking on Ethereum 2.0. That way, stakers who do not want to use terminal or CLI commands to manage their validators now have a visually pleasant UI to use.
"This is not meant to be a block explorer, but rather, an interface used to monitor your beacon node and validator client logs and perform common validator commands such as backing up keys, exporting your keys, and more."
Jordan mentioned that the tool is a fully open source UI and features several useful functions. This includes generating validator accounts from seed, monitoring gains and losses, chain data stats, and account backup.
Key Tasks Are Still Outstanding
As far as Prylabs is concerned, their contribution to pushing Ethereum 2.0 Phase 0 over the finish line consists of compliance work.
"For us, we just need to (a) be compliant with the standard eth2 API, and (b) be compliant with standard slashing protection formats. We plan on being feature complete by late Oct."
But examination of the Github checklist shows core development still has a number of tasks outstanding including security reviews, as well as miscellanous testing.
With that, despite Schoedon's confidence over an end of year launch, investors should remain optimistically cautious. Espcecially in consideration of the false starts experienced to date.
The past week has seen a steady performance from Ethereum, up 9% over the past seven days. Today it's priced at $383, having retraced from yesterday's near break of the $400 level.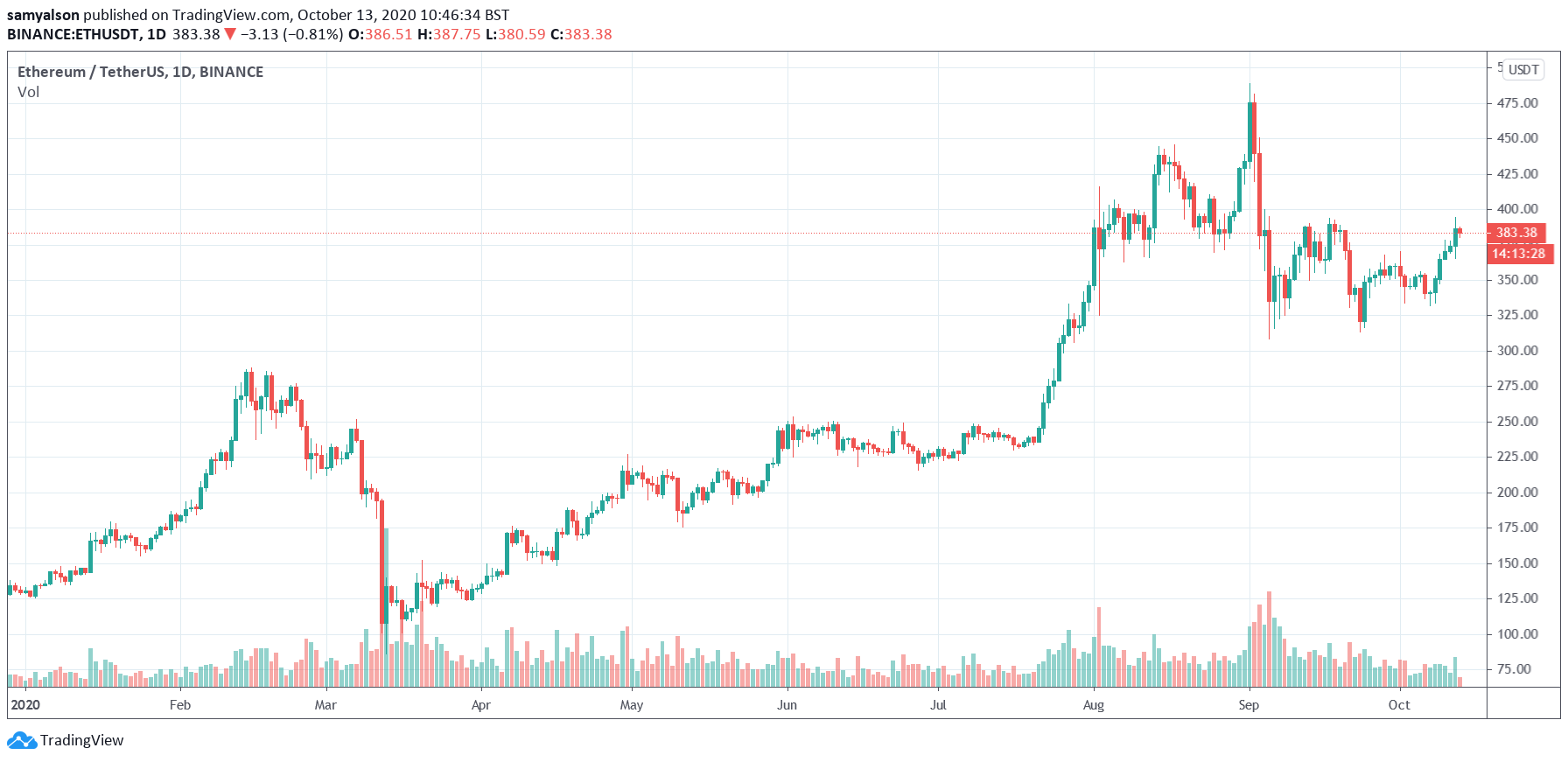 Ethereum daily chart YTD with volume. (Source: tradingview.com)
Image Credit: Refer to Source
Author: Refer to Source Samuel Wan
Disclaimer:
Blockcast.cc does not endorse any content or product on this page. While we aim at providing you all important information that we could obtain, readers should do their own research before taking any actions related to the company and carry full responsibility for their decisions, nor can this article be considered as investment advice or recommendations. Every investment and trading move involves risk, you should conduct your own research when making a decision.