Forget DeFi; non-fungible tokens (NFTs) are where it's at. Proof of that comes in the form of 'Homer Pepe,' a rare NFT that combines the beloved Homer Simpson character with meme maestro Pepe The Frog.
Yesterday, the former owner of 'Homer Pepe,' Peter Kell, posted on his Instagram that he had sold it for 205 Ethereum, or $312k.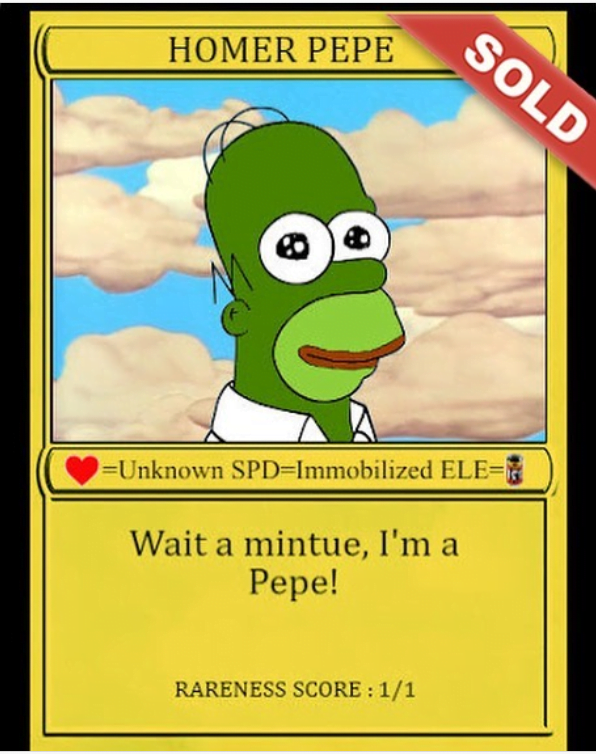 Source: @zippi101 on Instagram.com
'Homer Pepe' NFT Turns a 700% Profit
Kell's story began in early 2018 at the Rare Art Labs Digital Art Festival auction in New York City. Meme enthusiasts packed a small event room to bid on Pepe The Frog-inspired NFT artwork.
Up for offer were a whole host of Pepe-derived artworks. This included a Salvador Dali-esque item featuring melted Pepes, rather than clocks, in the artist's trademark surrealist style. But it was 'Homer Pepe' that was the star of the show.
Billed by the auctioneer as "the most expensive rare Pepe in existence," a bidding war soon erupted to acquire 'Homer Pepe.' And it was Kell who won, with a final bid of $38.5k.
Yesterday, Kell announced that he had sold 'Homer Pepe' for a staggering 205 ETH, which netted him a 700% return on his investment.
Commenting on the sale, Kell said people mocked him when he paid $39k for 'Homer Pepe,' over three years ago. But given the surging interest in NFTs of late, he eventually had the last laugh.
He added that digital art and NFTs "are the real deal." What's more, Kell sees this as a trend that will only get bigger over time.
"They laughed when I bought HomerPepe for $39k. But when I sold it for 205 ETH… 😳😳😳😳🎉🎉🥳but yeah. sad to see my HomerPepe story come to an end. But this is an absolutely insane event in the NFT world. I've definitely learned the value of Digital Art. More proof that NFTs are the real deal and will be a big part of how art is sold in the future. #nft#digitalart."
Non-Fungible Tokens Fall Within The Artist's Realm
The host of the Bankless Podcast, David Hoffman, said NFTs merge the world of art and crypto. But in a way that bypasses the technical bias that is sometimes present on the crypto side.
Hoffman said artists don't care about Ethereum; they only care to express themselves creatively. He attributes the boom in NFTs to a growing realization by artists that NFTs are a way to do that.
"We are at an inflection point in history, specifically artist history. They don't care about Ethereum, they don't care about DeFi. They care about being able to culturally and creatively express themselves and they are seeing NFTs as the vehicle to do that."
NFTs continue to divide opinion, especially regarding the sums of money for which they can change hands. But as Hoffman alluded to, NFTs are very much in the realm of artists and art collectors, not crypto token speculators.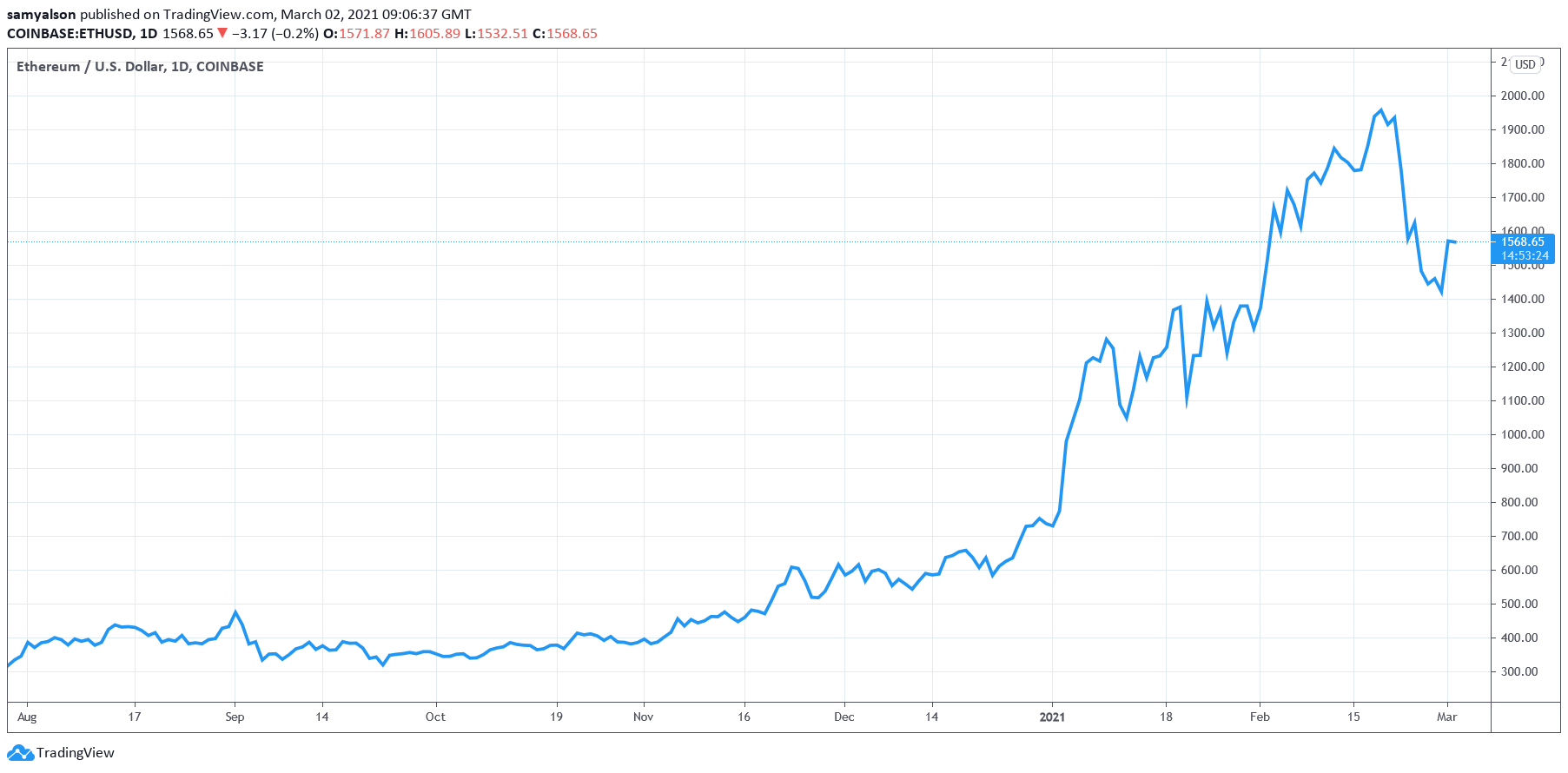 Source: ETHUSD on TradingView.com