242 total views
Bitcoin has seen some turbulent price action as of late, but it has generally favored bulls
The crypto surged as high as $28,500 this morning before posting a strong rejection that sent it tumbling down to lows of $26,500
It has found some strong support around this price level and has been attempting to use it as a base of support to grow upon throughout the morning
Where it trends in the mid-term will undoubtedly depend on whether or not these highs mark a blow-off top for the cryptocurrency
One analyst believes that although this is a possibility, the subsequent decline after facing a rejection at these highs has not been enough to confirm that "the top" is in
Bitcoin has been flashing signs of strength throughout the past few days, rallying from lows of $24,000 on the 25th of this month to highs of $28,500 overnight.
Although it did face a rejection here, it is still trading up significantly from where it was just a few days ago, and it may continue rallying higher in the months ahead.
One trader is pointing to the possibility that this recent rally and rejection marks a blow-off top, but he isn't thoroughly convinced due to the strength seen in the time following the rejection.
Bitcoin Rejects at Overnight Highs But Remains Technically Strong
At the time of writing, Bitcoin is trading up just over 1% at its current price of $26,800. This marks a notable rebound from lows of $26,500 that were set this morning.
It also marks a decline from its $28,500 highs set overnight when bulls stepped up and turned the crypto's slight grind higher into a full-fledged parabolic upswing.
The rejection here was intense, but bulls are in the process of absorbing the intense selling pressure.
Here's Why One Trader Isn't Convinced That BTC Posted a Blow-Off Top
While speaking about this price action, one trader explained that he is watching Bitcoin's continued reaction to its recent rejection.
Although he does not believe that this rejection formed a blow-off top, he is closely watching the crypto's continued reaction to the recent inflows of selling pressure.
"That does NOT look like a blow-off top to me (yet). I could be wrong, but this 6.43% down move in 55 minutes, although massive at current market cap, isn't enough to make me believe 'the top' is in."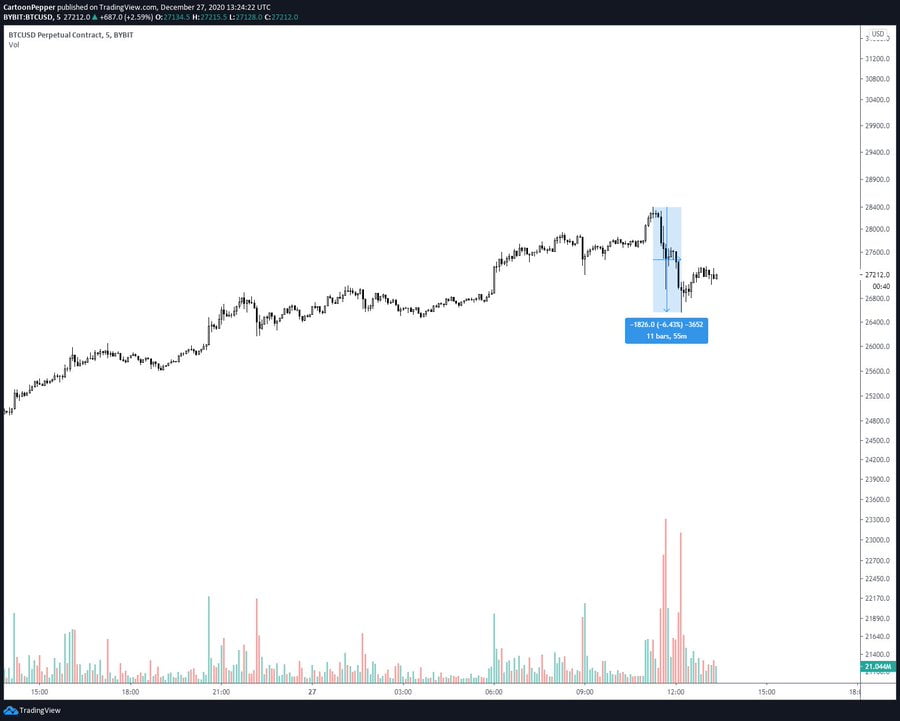 Image Courtesy of SalsaTekila. Source: BTCUSD on TradingView.
Because BTC is in the process of rebounding following its recent selloff, there's a strong possibility that bulls will negate the possibility of this being a local top.
Featured image from Unsplash.
Charts from TradingView.
Image Credit: Refer to Source
Author: Refer to Source Cole Petersen
Disclaimer:
Blockcast.cc does not endorse any content or product on this page. While we aim at providing you all important information that we could obtain, readers should do their own research before taking any actions related to the company and carry full responsibility for their decisions, nor can this article be considered as investment advice or recommendations. Every investment and trading move involves risk, you should conduct your own research when making a decision.