As devastating as Wednesday's crypto crash was, few hodlers lost as much as Ethereum Co-Founder Vitalik Buterin. According to CNN, Buterin's public wallet was valued at $1.1 billion on the morning of the downturn. But following the crash, it stood at $870 million.
Markets bounced back as the selling eased off. But prices are still down from before the crash. Add to that a sentiment of extreme fear, and many are wondering if the bull run ended with Wednesday's crash.
Ethereum On A Knife Edge
A week ago, Ethereum was riding high after hitting a new all-time high of $4.4k. Since then, ETH has been caught in a downtrend, with things getting much worse due to the crypto crash.
At one point, at the height of the panic selling, the price of Ethereum dipped as low as $1.9k before wicking back up. That's a 57% loss from its all-time high.
While yesterday was a green day, prices are still down from pre-crash levels.
Today sees a move above the $2,750 resistance level; however, a break above $3k would give more confidence in a recovery for the number two cryptocurrency.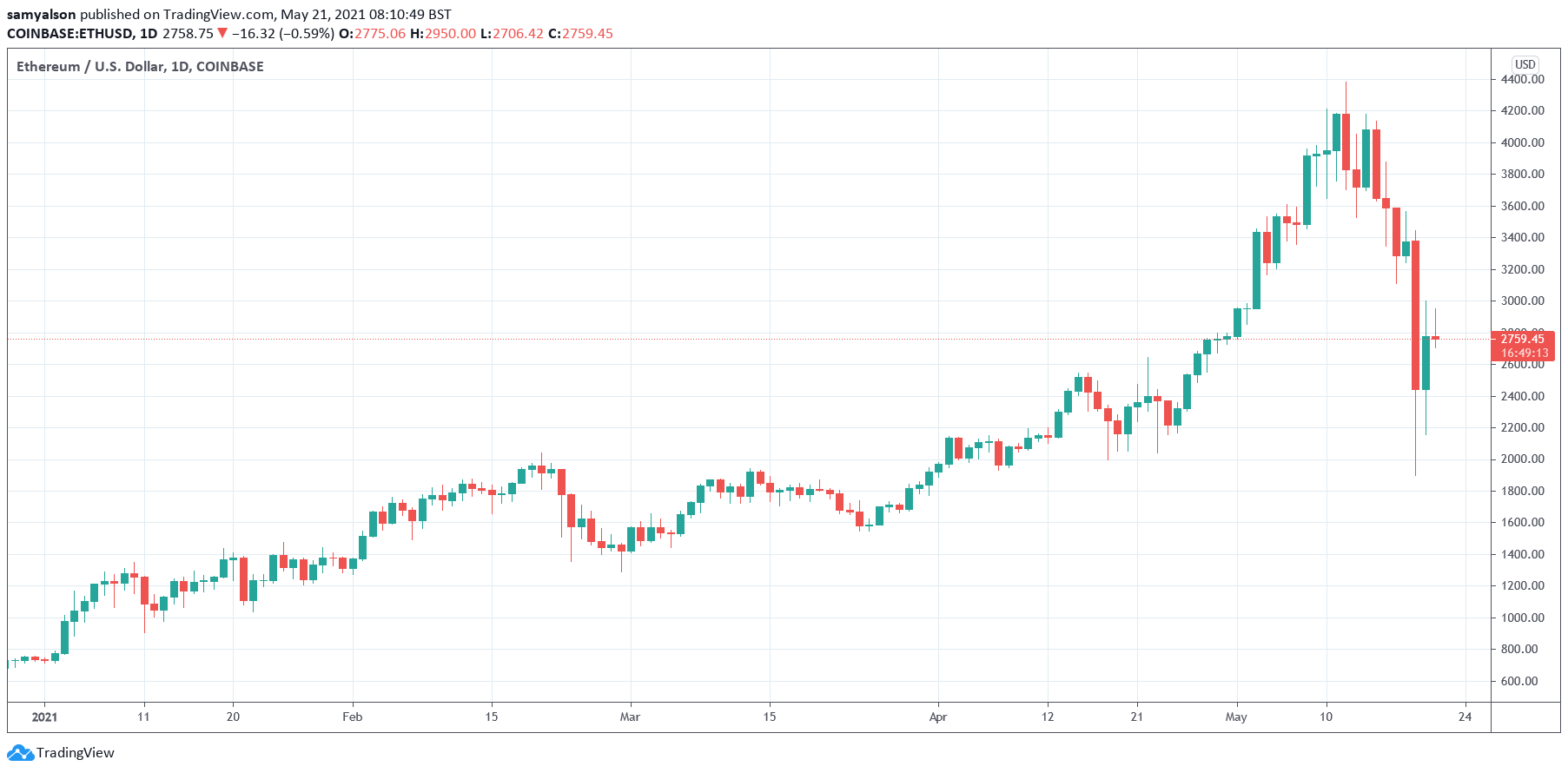 Source: ETHUSD on TradingView.com
As ever, what happens next depends on what Bitcoin does. Bitcoin hangs precariously but did close yesterday above the 200-day moving average, giving hope that the bulls still have some fight left.
Nonetheless, as investors continue nursing their losses, sentiment remains low. The question on everyone's mind is, is this the end of the bull run?
Is The Bull Run Over?
Although Buterin believes crypto "isn't a toy anymore," rather it's a significant part of the new world that's being created. But he still thinks markets are caught up in a crypto bubble.
He did, however, stop short of giving his opinion on whether Wednesday's crash signaled the start of a new crypto winter.
"[On whether we are in a bubble] I would say yes. But, again, that obviously does not come with a prediction of when the bubble's going to end because that's notoriously hard to predict."
On the other hand, Bitcoin-bull Willy Woo said confidently that this is not the end of the bull market.
Woo said there is a lot of activity in the network compared to valuation. He added that the crash was from a highly organic level, meaning he doesn't believe this is the down leg from a final blow-off top.
"We dumped down from a level that was highly organic, no speculative premium. 2017 top, for example, we were 3.8% higher than the organic valuation. This is not a mania phase and then the end of the [sic] bear market.

This is just the middle of the bull market derivatives unwind. So we've got a lot of cheap coins sitting here in the market. I think it will take a bit of time to recover."
The next few days and weeks will prove critical in determining whether Woo is correct in his assessment.